So, the most important lesson I learned with this week's The Souping Dead is to read the fine print. It is now 8pm in the time zone around which all others revolve. My show is presently starting. And my stew is going to be in the oven for another two hours. Le sigh.
But let's rewind. For this season's set of soups, I've made a lot that I've been really happy with, but though the recipes have been diverse, the flavor palate keeps veering into familiar territory. That concern, in conjunction with a recent conversation with a friend about Belgian beers, lead me to Carbonnade a la Flamande, pulled from the Cooks Illustrated website. It's a beef stew, but unlike my usual gravitation pull, it's got a beer base instead of wine. But, like so many Ruxin's that have gone before me, I just couldn't help but tinker.
Carbonnade a la Flamande is cited as a beer, beef, & onion stew. And as we've discussed, I'm so-so on the onions right now. So I halved the amount called for and tossed in some mushrooms in their place. As a serving suggestion, it recommends the stew be portioned over egg noodles or mashed potatoes. And while that's all well and good, you know what I really like? Potatoes stewing in meat juice for a couple of hours. So out went the notion of mashers, and into the stew pot went a mix of yukon gold and baby reds. To accommodate this extra allotment of thirsty veg, I also included an extra half cup of broth, just to maintain its soupy integrity. Now it's just a waiting game to see if all that tinkering paid off. In the meantime: zombies.
On that front, in attempting to stay as vague as vague can be, "Dead Weight" had some great moments, but ultimately served no purpose than to all-too-swiftly return us to the status quo. While not entirely surprising, I would have liked to have linger in some of those new dynamics that have been introduced. It was still expertly done, but it felt rushed, and given how very well they've paced out the rest of the season, I felt a little bit cheated by the way this played out.
But hey, it did the trick in happily helping me pass the hours waiting for my stew. When I finally dug in, I found it to be well-worth the effort. I'm not sure I successfully took the road less travelled with this one, but it made a great opportunity to correct some sins from a beef stew last year that did not turn out as well as I had hoped. The beef in this one was melt-in-your-mouth tender, and the beer gave the broth a caramel rich depth.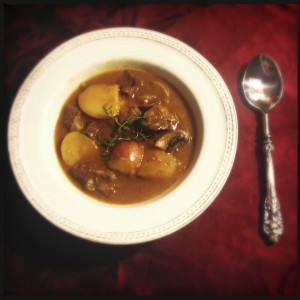 Next week, the mid-season finale of The Walking Dead, and with it, The Souping Dead. We're faced with cliffhangers on all fronts. Stay tuned.