It's that time of year again. We've set the clocks back, and it's pitch dark by 5:30 pm, and the days are still getting shorter. By the time 9 pm hits, you feel like you should already be asleep because you've been enveloped in darkness for so long. As someone who actually likes winter, and spends a good portion of the summer hiding from the sun, I have to admit that the ever-present darkness around this time of year even gets to me. It's tough to work up the motivation to do anything except curl up in bed after about 4 pm.
Since it isn't actually feasible for me to go into hibernation, I've found that a good way to combat the darkness is to literally brighten it up. In other words, candles are my winter obsession. After all, at its core, the holiday season is really about bringing some light and warmth to the dark, right?
The onslaught of Christmas and holiday themed candles is already well under-way. Bath and Body Works, always on top of seasonal changes, has had their winter/holiday display out for several weeks now. On the other end of the price spectrum, Diptyque has unveiled their set of holiday candles for the season, and they're just as stunning as ever. However, my favorite candle fragrance of the moment is something a little less obviously geared toward the holiday theme.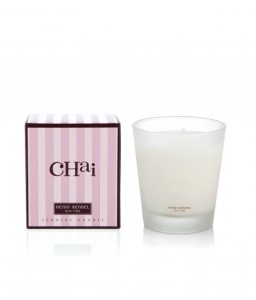 Henri Bendel's Chai candle is my current addiction. I recently visited New York, and Bendel's had one of their Chai candles burning in the store. It was the best sales technique – I was sold instantly. There's no other way to describe it: this candle is like living in a chai tea latte. It's the absolute embodiment of comfort.
I'll be honest, Bendel's candles don't burn as evenly as I would like. Burning down the last third of the candle can be a messy business sometimes. However, the intensity and projection of the fragrance make up for it, and make this brand worth it for me. Burning one Bendel's candle at a time is more than enough to leave my apartment smelling great for an evening, and even throughout the next day.
Bendel's Chai is my obsession at the moment, but it doesn't matter what particular candle brand or fragrance you prefer. Candles are a relatively simple way to (literally) brighten up an otherwise dreary evening. A great candle or two always make me feel just a tiny bit more cheerful about dragging myself away from the warmth of my comforter. It's a chic way to bring a touch of festivity to what can otherwise be an overwhelmingly dark time of year.