​I've been on a comfort food kick the last couple of weekends. Last Sunday, I went the stew route​, because you just can't go wrong with meat and potatoes and carrots simmering away in mix of stock and wine. Still in the same mindset, I decided to hit up another classic: tomato soup & cheese toasties.
For my recipe, I grabbed one of my favorite cookbooks: Gwyneth Paltrow's My Father's Daughter (if there was ever a book I had a chance of cooking my way through cover to cover, it's this one) for her take on tomato soup, a delicious combo of roasted tomatoes and fresh basil.
The tomato roasting process is half the fun with this one. Living in Minnesota, we're graced with some of the best tomatoes in the world for an all-too-short span at the end of summer before it's cruelly yanked away, leaving us once again with a passable-but-unspectacular lot of supermarket hot house tomatoes. Slow-roasting with a bit of olive oil and salt really brings out the flavor in even the most flavorless specimen. Added bonus, once the roasting process is done, the caramelized tomato juices, oil, and salt make for some delicious dipping if you happen to have a baguette around to snack on while the soup simmers away (failing a baguette, a finger will suffice… it's that good). For the soup itself, the recipe is solid. I've made it a half dozen times now, and I only make a couple of tweaks. The first, my standard halving of the garlic in the dish. I don't dig on garlic lately, and depending on the preparation, I either cut the amount or omit it entirely. Second, I sub in San Marzano tomatoes instead of the basic variety, because they are delish.
The finished product is richly tomato-y, bright and tangy, and a far cry from its canned cousin at Campbell's, but no less of a great partner in crime for a grilled cheese.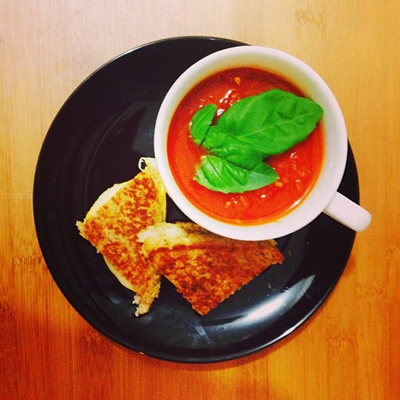 As for the show? It was everything I love about The Walking Dead, and everything I love about the genre, period. As much as I love The Walking Dead, I can admit that it has been very uneven over the course of its run, sometimes even frustrating, and I love it in spite of those flaws. But "Internment" was the show at its best. No gimmicks, no interpersonal pettiness. It was just raw, human survival, and the humanity that can shine through in even the darkest times. It was flawlessly done, and a high mark in a season that has been full of them. I'll be honest.. it kind of made me wish I'd gone for a fancier soup.