In the hottest part of summer all we can do is hope for crisp fall days, trading tank tops for sweaters, and dreaming about everything flavored with pumpkin spice.  The reality is that autumn is an idyllic imagining of a season that is much beloved but too short, if it ever arrives at all for some of us.  Living in southern(ish) California means we suffer from a year-round temperate climate.  This week the forecast calls for seventy degree weather with a slight chance of rain.  For many of my colder climate friends this is ideal shorts weather, but there's something inherently wrong about celebrating Thanksgiving in cutoffs and flip flops (blame it my northern California upbringing).
While I've adjusted what's in my closet so that my outfits work year long (give or take a scarf and a cardigan), I haven't adjusted my expectations for the fall season.  I still look forward to comfort foods piping hot from the oven, my down comforter, and those gorgeous autumnal colors.  Last week the trees finally cooperated and it looks like fall is officially here: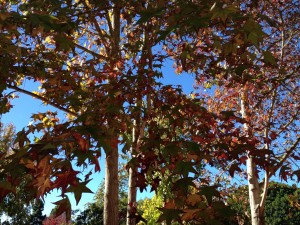 This is good news since Thanksgiving means it's basically winter, which means it's practically Christmas, and that essentially means it's 2014 already, OMG LET'S FREAK OUT.  Anyway, I definitely haven't gotten my fill of the season yet, so here's my belated ode to autumn.
A List of my Favorite Things:
1. Decorative Gourds:  I buy a pumpkin every year to decorate my table.  Sometimes I'll buy a few and try to arrange them like I'm Martha Stewart (I'm really not).  One time I let a pumpkin go past ripe and it burned a hole in my table.  Ok, not a hole, but the rotting flesh did stain my table and now I have to cover it up with a pile of placemats.  This season I only bought a small pumpkin and it's perched next to my scented candles.  The only thing that makes me happier than decorative gourds is this beautiful rant about them by Colin Nissan over at McSweeney's, aptly titled "It's Decorative Gourd Season, Motherfuckers."
2.  Apple Hill:  It's been a few years since I've been to Apple Hill, up in the Sierra Foothills in El Dorado County, but it's always going to live in my memories as a magical place where all my apple flavored dreams come true.  There are pies, turnovers, candied apples, caramel apples, apple juice, apple cider, and so many varieties of delicious farm fresh apples from which to choose.  I do my best to get by with farmers market apples and cider, but this is a northern California fall/winter tradition that I miss and remember fondly.
3.  Pumpkin Spice:  You can get pumpkin spice in just about anything these days, from lattes and chai tea mixes to ice cream and soda.  I only embraced the trend fully last year, but like Ilana Plen, I felt jilted by my love when it left me without warning.  Read her "Open Letter to Pumpkin Flavored Seasonal Treats," also at McSweeney's.  (And if you have Peet's Coffee nearby, I highly recommend the Pumpkin Latte.)
4.  Thanksgiving themed TV shows:  I'm a sucker for a Thanksgiving special.  The holiday brings out the best and worst in people, and who better to make us laugh about it than our favorite characters?  Monica dancing with a turkey on her head will never not be funny.  I also think many Americans can get inspiration from Lorelai's stance on Thanksgiving as an Olympic sport in eating.  And if I love one good trope, that means I love two combined even more.  How about last year's New Girl where Jess tried to "parent trap" her divorced parents on Thanksgiving?
Required viewing:
Friends, "The One with All the Thanksgivings"
Gilmore Girls, "A Deep Fried Korean Thanksgiving"
New Girl, "Parents"
5.  Food:  Last year I hosted Thanksgiving for my family and my in-laws.  It was incredibly stressful, but so rewarding to make eight dishes from scratch in my apartment-sized kitchen.  I say that with zero sarcasm, actually.  If Lorelai gets a gold medal in eating, then I should have gotten the gold for cooking.  One of my favorite things I made was an arugula salad with pomegranate, persimmon, and pears.  I liked this so much, I'm bringing it this year as my contribution to dinner on Thursday.
Arugula Salad with Pear, Persimmon, and Pomegranate
Recipe: